Kayaking provides a unique perspective on nature. This popular activity provides a great way for active outdoor enthusiasts to enjoy the water and see aspects of the shoreline that you'd never get to view via foot or a motorized vehicle. You just need to be sure you have the right gear.
Kayak Paddles
Kayak paddles are not all created the same. According to REI.com, when shopping for a paddle, it is important to find the right length and blade type for your paddling style and boat width. Additionally, the best paddles are made from lightweight materials to help reduce arm fatigue when you are navigating the waterways.
Bending Branches Angler Classic Kayak Paddle
The Bending Branches Angler Classic Kayak Paddle is a great option for kayakers looking for a lightweight yet durable paddle that comes in a variety of lengths. Designated one of Outside Pursuits' best kayak paddles for 2017, this model is available in lengths ranging from 220 cm to 260 cm. It also comes in both orange and green.
The blades are constructed from fiberglass reinforced with nylon and the shaft is made of fiberglass. The blade angle is adjustable, a feature that makes this paddle a particularly great option for people who have more than one kayak or in situations where multiple people may use the same paddle at different times. Anglers are sure to love the special touch of a built-in hook retriever.
Cost: Order from OutdoorPlay.com for around $150, or enter your location via the BendingBranches website to find a store in your area.
Seattle Sports Sea-Whisper Carbon Paddle
Not only is the Sea-Whisper Carbon Paddle from Seattle Sports listed in Outside Pursuits' collection of the best kayak paddles for 2017, it is designated as the editor's choice. This paddle comes in lengths varying from 210 cm to 220 cm, making it a great option that's right-sized for the majority of kayakers. It has a bit lower price point, along with some fun features, like grip rings that glow in the dark.
The blades are made from fiberglass reinforced with nylon and the shaft is made of carbon fiber, so it is quite durable. The blade angle can be adjusted and features built-in catch points that kayakers can use for tasks like retrieving small items that slip overboard or to grab a fishing line or dock.
Cost: Purchase directly from Seattle Sports or BuyersEdge.com for around $120.
Kayak Carts
Jim Lin, a long-time avid kayak angler (check out his adventures on Instagram) and Senior VP/creative director at Ketchum, shares his top recommendations for kayak carts, also referred to as kayak trolleys.
Lin states, "While some folks put their kayak on a trailer and load it like any other boat, most people use a kayak trolley/wheel system to get to the water." He points out, "The most common trolleys use the scupper holes to hold them in place; however, this requires you to put the kayak on its side to attach it. This means you have to unload your gear, attach the trolley, and put all your gear back in the kayak before pulling it to your vehicle."
For anglers and other kayakers who carry a lot of gear, this can be a hassle. There are two trolley/wheel systems that Lin recommends to alleviate this problem.
C-TUG
Made in New Zealand, the C-TUG Kayak & Canoe Cart is designed with the needs of paddling enthusiasts in mind. Made from a combination of stainless steel and specialized non-corroding, UV-resistant plastic that can hold up against blazing sun, salt water and sand, this cart suits most kayak hull shapes and can support up to 300 pounds.
It's also very easy to use with your gear in place. Lin explains, "This very compact trolley uses a strap system instead of fitting inside the holes. This means you only have to lift the kayak (without tipping it) to place it on the wheels and then tie it down. It also comes apart easily for storage inside the kayak."
Cost: C-TUG can be purchased for around $140 from a variety of dealers, including West Marine and Academy Sport + Outdoors.
Landing Gear by Boonedox
For heavier kayaks like the Hobie Pro Anglers (which Lin owns), he prefers the Landing Gear system from Boonedox. With this system, the wheels are attached directly to your boat. They can be extended when you are on land for easy transport, and they retract when you are on the water. He explains, "The Landing Gear allows you to raise and lower the wheels while you are inside the kayak on the water, much like an airplane landing gear."
Lin points out, "Having one of these is a commitment, because you have to permanently attach the mounting bar to your boat (which means drilling holes in the kayak), but it's a worthwhile commitment."
Cost: Landing Gear costs around $250. It can be ordered directly from BooneDoxUSA or purchased from one of many official dealers.
Kayak Seating
If you're going to be spending quite a bit of time on the water, it's important to make sure that you have a comfortable spot to sit. You can increase your comfort with a quality seat cushion, or go all-out by replacing the seat that came with your boat with a high quality one designed for maximum comfort.
Feelfree Kingfisher Kayak Seat
If you want a full seat for your kayak, Feelfree's Kingfisher Kayak Seat is a great option to consider. It is designed to provide the ultimate in kayaking comfort. It has a "beefy and plush" seat base and a lumbar support cushion to help support your lower back, so you can stay comfortable even when you are spending long stretches of time on the water actively paddling.
Cost: Purchase for around $130 from Austin Kayak.
Yak Gear Sand Dollar Seat Cushion
If you prefer just to add a cushion to the existing seat in your vessel, consider the Yak Gear Sand Dollar Seat Cushion. This non-skid cushion is designed to stay in place between you and the seat during all kinds of adventures on any style of kayak. It is over a foot wide (14 inches) and 11 inches deep, so there is plenty of surface area. The cushion is an inch thick and is constructed from EVA foam, so it also has the thickness you need to stay comfortable while paddling.
Cost: Purchase from Dick's Sporting Goods for around $25.
Kayak Fishing Gear
Lin states, "Anglers always err on the side of carrying too much gear because the one time you need a certain lure you neglected to bring, you will kick yourself the rest of the day and blame all your woes on that omission." With that in mind, there are a number of great gear options designed with the needs of kayak anglers in mind.
Hobie H-Crate
Lin recommends the Hobie H-Crate for anglers who are "ready to graduate to a really pro-level crate" from DIY or more basic, store-bought options. Lin explains, "Aside from having 4 rod holders built in (you can never have too many rod holders), it comes with straps and clips attached to easily secure the crate onto your kayak."
"The best feature," he adds, "is that the H-Crate features the Hobie H-rails along the top perimeter. Hobie fishing kayaks feature the H-Rail along the vessel and they allow the angler to attach a whole host of accessories to the boat. With the H-Crate, you can attach H-Rail accessories right to the crate, from extra rod holders, to caddies, to camera mounts. There are also mounting holes along all of the side panels, which give you additional accessory options."
Cost: Sold for just under $140, enter your zip code in Hobie's store locator to find a dealer near you.
YakAttack CommandStand
If you're a kayak angler who likes to stand up to fish, it won't take you long to figure out why KayakAngler designated YakAttack's CommandStand as a one of the top "must have new accessories" in 2016. At first glance, this device looks like an ordinary stand-assist bar, but it's really a fully outfitting fishing station. It includes two paddle holders to keep your paddle securely in place while you're waiting on the fish to bite, plus bar clams that let you quickly and easily mount a camera to the stand, as well as attach rod holders or a cup holder.
Command Stand will fit most fishing kayaks and is very simple to assemble. The hex key that comes with it is the only tool you'll need! It is also super-easy to put it in place when you need it, remove it from your boat and break it down, all with no tools required.
Cost: Purchase directly from YakAttack or Live Watersports for $250.
Kayak Storage Racks
It's just as important to have the proper gear to store your kayak when it's out of the water as it is for outdoor adventure outings. Kayaks take up quite a bit of space, so most people need to find a way to store them that won't take up valuable square footage. It's also best for your boats if you can keep them out of the elements.
SlingTwo Double Kayak Storage System
The SlingTwo Double Kayak Storage System from Malone Auto Racks is a versatile sling rack that can be hung from the ceiling or attached to a wall. It is simple to mount, and all the hardware you need to set it up is included. This storage rack will hold up to two kayaks and has a weight capacity of up to 135 pounds.
Cost: Purchase directly from Malone, or order from etrailer or Amazon for just under $25.
FS Rack 3 Kayak Storage Rack
If you have plenty of floor space in your garage or shed and would prefer not to have to hoist your kayaks, consider Malone's FS Rack 3 Kayak Storage Rack. This free-standing, heavy-duty rack consists of a frame, levelers (to adjust the frame so it stays level), padded holders (J-style), and kayak blocks. It is easy to put together and comes with all assembly hardware. With a weight capacity of up to 250 pounds, this rack is designed to hold up to three kayaks.
Cost: Purchase directly from Malone or order from Dick's Sporting Goods for around $200.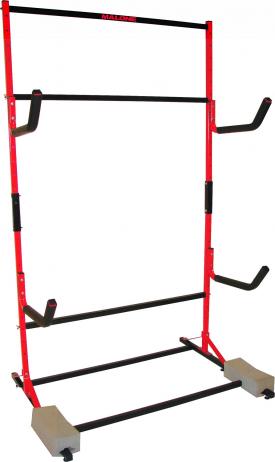 Small Gear Must-Haves
To make the most of your paddling time, it's also important to carry along various small gear items that can improve the overall experience.
Wide-Mouth Water Bottle
It's really important to stay hydrated when you're on the water, so a quality water bottle is a must-have for any kayaking enthusiast. The Vacuum Sealed Wide-Mouth Water Bottle from Pure Outdoor by Monoprice is an excellent choice.
That's because it is sturdy, vacuum-sealed, and the cap is actually attached to the container (so you can't easily drop the lid in the water). The outside of the bottle is powder-coated, so you also don't have to worry about it sweating if you store it in your gear back with other items. It's also quite affordable, which is a great feature for kayaking because you just might drop the whole thing in the water and need to purchase another one!
Cost: Purchase directly from Monoprice. The price ranges from around $7 to $20, depending on size selected. Options range from 18 to 40 ounces. The author received a review item of this product and finds the 32 ounce size (around $13) to be ideal for day trips.
Waterproof 30L Backpack
Whatever you want to carry along on your kayaking adventures, there are sure to be things you'd like to keep dry. That's why a waterproof backpack such as the geckobrands Waterproof 30L Backpack is something to consider adding to your collection of gear.
This compact waterproof backpack closes in a unique way as the top rolls down and fastens snugly with a buckle and click closure. It is right-sized for kayaking (8″ tall X 13″ wide and 5″deep), and it features an exterior pocket that is water-resistant as well as padded shoulder straps that can be adjusted.
Cost: Buy from Dick's Sporting Goods for around $30.
Compact Waterproof Bluetooth Speaker
While music might not technically be a must-have for kayaking outings, it's sure nice to be able to enjoy your playlist during relaxing paddles or while taking a break on the shoreline. Polk's Swimmer Duo speaker is perfect for kayaking. It is very small, shock-resistant and (of course) waterproof. It can actually be submerged in as much as three feet of water for half an hour.
Additionally, you can link two of these speakers together (which is ideal for tandem kayaking). To make it even more perfect for paddling, it has a tail that can be attached to any object. Clip it to your backpack, jacket, or any other gear or apparel item you have handy.
Cost: Buy for around $30 from Polk Audio.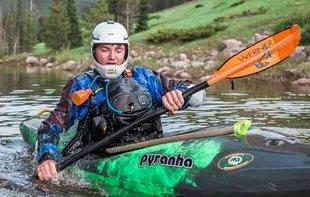 Don't Overlook DIY Either
Of course, these are only a few of the many gear options available for purchase. And your choices don't end there! Some of the best kayaking gear is that of the DIY variety. Lin emphasizes, "The kayaking community is all about DIY, and core to that are PVC pipes. PVC pipes are like the LEGO bricks of the fishing world. With enough imagination, you can fashion almost anything you need with PVC pipes, elbows, a saw, drill and zip ties."
He points out, "I've seen some amazing rod storage systems for trucks, car interiors and home fashioned out of PVC pipes, and for inside the kayak, you can build rod holders in all kids of configurations to suit your vessel. You can also use them to build your own trolley for transport, or rail systems to protect the bottom of your kayak on a boat trailer or in the garage. Wider pipes also make for great bait livewells when you drill a bunch of holes and cap each end. If there is something you need, and you can't find it (or it's too expensive), you just might be able to make what you need yourself!"