Myrtle Beach, South Carolina is one of the most popular vacation spots on the Atlantic coastline, and camping at an ocean side campground is a great way to totally immerse yourself in the experience. Good thing there are plenty of campgrounds to choose from.
PirateLand Family Camping Resort
Whether you have children or you just think one national "Talk like a Pirate" day is not enough, PirateLand Family Camping Resort just might be the campground for you. This unique resort is located right on the coast and offers 180 full-hook-up sites. You'll find individual camping spots, annual lease sites, trailer sales, and vacation rentals on-site that give you the look and feel of camping without the hassle of looking in your rear-view mirror to check on a trailer.
Campsites/Hookup Options
Rates vary according to the season and by type of campsite. For example, a four-day weekend stay in June at an oceanfront full hookup site runs about $70 a day, and a Cape Fear Trail concrete pull-through site is only $5 more. Inland sites that vary from 150 to 300 yards from the Atlantic are only a couple of bucks cheaper, but you have the benefit of some scattered shade trees and an invigorating walk to the sandy beach.
Camping in a Rental Model
A variety of park models are available. For example, a unit with two bedrooms and one bath can accommodate up to five people and runs around $70 per night on weeknights and about $10 more per night on the weekend, starting Friday. A three-bedroom Executive Doublewide with two baths can accommodate six people and runs around $100 per weeknight. You'll have to toss in about $16 more per night on the weekend. Other models are available in different bedroom/bath arrangements and similar prices.
Amenities
PirateLand has one of the newest and nicest water parks in the Myrtle Beach area, with a 510-foot Lazy River and a new splash pool for the kiddies. The pool and river area are surrounded with hundreds of chaise lounge chairs dispersed about over 18,000 square-feet of sundeck where you can relax and take in the sights. There is also a heated indoor pool for campers on the cusp of the season.
When you grow tired of relaxing, there's Blackbeard's mini golf, and there are also many options for 18 holes of "real" golf in the area. In addition, there are tons of activities for youngsters and adults outside the campground.
In addition to the water park, pools and golfing opportunities, you'll find rental canoes and paddle boats, a kid's game arcade, a snack bar, and a sheltered picnic pavilion. Other practical amenities include an on-site laundromat, propane refills, and climate-controlled bathhouses with tile showers.
Pet Policy
Pets are welcome on campsites and only on particular lease sites, and there are a few rules you'll need to follow.
No Rottweilers, Pit Bulls and blends of these breeds are allowed.
Owners of any dogs with behavioral issues, from barking to displays of aggression, will be asked to board their dogs elsewhere. Failure to comply with that request will result in expulsion from the campgrounds.
A maximum leash length of six feet is the law of the land, and poop-scooping is mandatory as well.
No pet of any breed may be tied up outside or left unattended in PirateLand.
Reviews
With over 200 reviews, the majority of campers are positive about this park, although there were a number of complaints about the small size of the sites, the cleanliness of the bathrooms, and the rudeness of the patrol staff.
Reservations
Start your online reservation process for PirateLand by inputting the dates you'd like to book, or call direct at 1-800-443-2267.
Ocean Lakes Family Campground
Ocean Lakes Family Campground is located on Highway 17 about four miles south of what is considered downtown Myrtle Beach. This campground was awarded Top Rated Park for 2014 from the Good Sam RV Travel Guide and Campground Directory. The location has nearly a mile of oceanfront access. Other campsites in the area charge extra for pull-through sites, but all sites are pull-throughs, which is important for neophytes who are intimidated by the prospect of having to back their campers into their sites.
Campsites/Hookup Options
Choose from 893 campsites that include water, sewer, and 20-30-50 amp electric hookups, as well as a 63-channel cable TV hookup. Of particular note, 630 of the sites feature a concrete pad that measures 18 x 45 feet. You have the choice of ocean side, lakeside, and shaded sites. In a mostly cellular world, chat-a-holics will appreciate a modem-friendly phone jack with free local calls. Trash pickup is provided daily, and each site has its own picnic table. Wi-Fi is available for free.
If you get really serious about spending a lot of time in this area, this campground offers annual sites at competitive rates.
Rentals Available
If you don't like looking in your rear view mirror to see how your RV is doing, this campground has 300 individually-owned rental sites that range in a variety of sizes and price ranges, and they're fully furnished. All you have to do is come with a fun-seeking attitude and bring your own linens and paper products.
Amenities
Ocean Lakes has a lot of open deck space and gazebos for picnics and off-beach activities. There's also a very large game arcade, an indoor pool and two kiddie pools, as well as a new splash zone for little campers. All of these water-based amenities are overshadowed by an Olympic-sized outdoor pool surrounded by deck chairs and recliners for anyone who prefers to soak up the sun without the sand. If you have a passion for knocking the little dimpled darling around, look no further than the new miniature golf course.
On the educational side, the Ocean Lakes Nature Center Discovery Lab features over 10,000 fossils and shells on display. Special nature programs are available from September through May.
On the practical side, there's a well-maintained laundry facility so you can keep up with all those beach towels and family laundry that doesn't go away on a holiday. If you need supplies or accessories for your RV, there's a well-stocked RV Center where you can pick up essentials without having to run around town. Golf carts and bicycle rentals are also available to make traveling more convenient.
Pet Policies
Pets are welcome, except in rental units, and the animals must be attended at all times.
No Pit Bulls, Rottweilers or aggressive breeds are allowed.
All dogs must be on a maximum six-foot leash at all times.
Campers must clean up after their pets: failure to do so will incur a $100 fine.
Reviews
The majority of camper reviews are very positive in their comments. Negatives are mostly related to teens driving golf carts fast and reckless and noise at night. You may find a video tour of value as you evaluate this campground.
Reservations
You can make online reservations up to 18 months in advance or, if you prefer, call 877-510-1413. A deposit is required to hold a site.
Lakewood Campground Resort
Lakewood Campground Resort was voted "The Best of South Carolina" for 2012 and received the "Plan-It Green" award for its eco-friendly features. This campground offers a lot of opportunities for recreation, especially for campers who have energetic natures. Set on a 200-acre site with oceanfront access, you can choose from a variety of campsites and rental accommodations.
Campsites/Hookup Options
In addition to basic tent camping, there are almost 2,000 camping sites with full hookups, Wi-Fi, and cable TV. Pick your choice of 50-amp full hook-up sites are close to the ocean, partially shaded, or centered around a freshwater lake where you can fish, enjoy a rental paddle boat ride, or a kayak if you feel adventurous.
Camping rates vary from around $25 to almost $90 per day depending on the season and length of your stay. All pool and attraction activities require wristbands, which are issued to you upon your arrival. Just be aware there is a $50 per wristband charge if you lose them.
Rental Options
If you want to take advantage of this location without bringing your own camper, there are two, three, and four-bedroom villas available for rent. Take a virtual tour of these rentals to see if they suit your needs.
Amenities
When you're ready to come in from the beach, you'll find a variety of athletic amusements. Kids will enjoy the large playground, and there are shuffleboard, basketball, volleyball and bocce ball courts, as well as miniature golf.
On the wet side, all the family will enjoy the newly installed water park, complete with a lazy river where you can relax and float your cares away. For inclement weather days or swimmers who prefer water without the waves, there's an enclosed, heated pool near the beach, but it is rather small. There's also a larger pool with a spacious deck that's lined with hundreds of lounge chairs and a kiddy slide with a waterfall.
Other amenities include EV charging stations, lots of arcade games for the kids, a spacious laundromat, RV store, groceries, and more.
Pet Policies
Pets are allowed, but some rules and restrictions apply.
Only non aggressive, quiet pets are permitted in the campgrounds; they're required to wear a leash at all times, which can be no more than six feet long.
Noisy or nuisance pets must be placed in a local kennel at the pet owner's expense.
Pet owners must clean up after their pets.
Pets are prohibited from all public buildings and pool areas, and they're not allowed on the beach from 10:00 a.m. to 5:00 p.m. from May 1 through Labor Day.
Reviews
Visitor reviews are a bit divided. Many visitors seem to be pleased with the amount of things to do, while others felt the resort was too crowded, there's too much traffic, and the water park doesn't open early enough. Take a video tour of the campgrounds, amenities, and surrounding area to get a better idea of what you'll find.
Reservations
Online reservations are fast and simple, but it you prefer to speak with someone in person, dial 1-877-525-3966.
Myrtle Beach State Park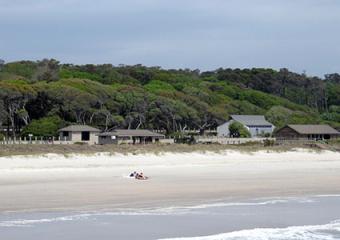 Myrtle Beach State Park is an excellent value, especially for South Carolina seniors. There are many amenities and unique features for campers who are inclined to participate in nature walks. Visitors can also access a fishing pier for a small daily fee. This park was built by the Civilian Conservation Corps back in 1930s, and it's adjacent to one mile of undeveloped beach where sea turtles often nest.
Campsites/Hookup Options
Of the 204 campsites available, 66 provide individual water, sewer and electrical hookups for campers ranging up to 40 feet in length. There are also numerous sites available for tent camping as well as smaller RVs. Hot showers, restrooms and Laundromat facilities are located conveniently to all camp spots. RV sites are priced in Off-Season, Mid-Season and Peak-Season rates that vary from around $30 to around $45 for 50 amp service. Senior discounts cut those rates by around 30 percent, but they're only available for South Carolina residents.
A Few Rental Cabins Available
There are six cabins available for rental, and they're located about 200 yards from the beach. Prices range from around $75 to $240 per night, depending on the number of bedrooms and the season selected. No dogs are allowed in or around the cabin area.
Amenities
Amenities at the park include the Ranger Station store, handicapped access, free Wi-Fi, and beach lifeguards during peak seasonal. There are also three playgrounds and picnic shelters. Nature lovers will want to take advantage of the maritime forest with nature trails, birding, and wildlife viewing opportunities.
Pet Policies
While pets are allowed, restrictions are similar to other campgrounds in the region.
No dogs are allowed on the beach between the hours of 10 :00 a.m. and 5:00 p.m. from May 1 through Labor Day.
Dogs must always be on a leash no longer than six feet.
If you have a noisy or dangerous pet that threatens or harasses wildlife, you'll be asked to remove it.
No pets are allowed in or around state park lodging facilities.
Reviews
State Parks are always a bit different from commercial offerings and generally those differences are positive. Many reviewers loved this campground for the spacious sites and cleanliness. One reviewer was displeased with the price of beach chair rentals. At $30 a chair, you might want to make sure you bring your own. To see what the park is like under a variety of condition, park officials have posted a collection of visitor videos on YouTube.
Reservations
Make your reservations for a camping site or cabin at the state park's website, or call (803) 734-0156 Monday through Friday from 9:00 a.m. to 5:00 p.m.
KOA at Myrtle Beach
The KOA campground at Myrtle Beach is a family staple for campers who want an enjoyable experience without breaking the bank. However, that doesn't mean there aren't plenty of things to do. This campsite is close to amusement parks, mini and regular golf courses, theaters, restaurants, and more.
Campsites/Hookup Options
KOA breaks down the pricing structure of their 540 sites based on seasonality, and they also distinguish between back-in and pull-through sites. Pull-through sites are a few dollars more, so being able or willing to back up can save you a few bucks. For example, off season full-hookup back-in sites run just under $40, and pull-through sites run just under $60. Peak season rates for that same site run around $66 for a back-in and just over $70 for a pull-through.
Sites are available in 20, 30 and 50 amps, and only the deluxe sites have concrete slabs. To get exact pricing and availability for your own stay, use their handy reservation tool.
Cabin Rentals Available
One-room cabins that sleep four people are available for just over $40 per night. Two-room cabins are roughly $10 more.
Amenities
There are plenty of ways to entertain yourself at this campground. There's an arcade, as well as a free beach shuttle, a pool, and a splash pad. You'll also find a climbing wall, a pavilion, fishing, and two playgrounds. You might even want to take advantage of the outdoor movie cinema and hay wagon rides, and there's Kamp K9 for dogs. Cable with limited channels and Wi-Fi are also available at some sites.
Reviews
Reviewers liked the size of the sites and the staff, but there are numerous complaints about the cleanliness of the showers. Visitors also seem less than impressed with the Wi-Fi service. Watching a video may give you a better feel for the campgrounds.
Reservations
Call 800-562-7790 for reservations, or use the handy online form located on the right side of the KOA homepage.
Apache Family Campground and Pier
Although you might reasonably expect to find a facility with a name like Apache Family Campground and Pier somewhere in the West, this one is located as far East as you can travel in Myrtle Beach, South Carolina. This campground is located on the north end of the Grand Strand, as the beach is often called, near convenient access to the best restaurants, shopping, golf course, and the downtown boardwalk.
Campsites/Hookup Options
Rates vary by season, and only the current season rates are posted at the website, along with some extended-stay rates. As an example, full hook-up sites range from just under $50 in the off-season to just under $70 in peak season, with a few dollars difference between shady spots and beach locations. Rental accommodations are also available on a weekly basis, but you must call the campgrounds directly for availability and pricing.
Amenities
The most striking feature of this campground is the fishing pier. It's open 365 days a year and features live entertainment during the summer months and lots of activities for all ages.
Entertainment amenities include an arcade, a pool and splash park, a playground, and an indoor activity room. Practical amenities include a laundry, courtesy shuttle service, a trading post, golf cart rentals and electric car power stations. Internet is available for $6 per day.
A chaplain provides Sunday worship services at 9:00 a.m. and is available for weddings and other type of ceremonies.
Pets Allowed
Although pets are allowed, you won't be able to view the campground's full policy until you finalize your reservation. There, you should call directly to get details about any rules and restrictions you need to follow. In general, assume that aggressive pets won't be tolerated and plan to clean up your pet's dropping.
Reviews
Location seems to be the strong suit in the eyes of reviewers, who commented about the advantage of being on the north end of the beach. Negative reviews were focused on dumpster locations and difficulty of maneuvering very large rigs through the campground.
Reservations
You can check for available dates and sites on the campground's home page just below the masthead, or call direct at (800) 553-1749.
Choosing Among Myrtle Beach Camping Facilities
All the campgrounds on the coastline of Myrtle Beach are priced at a premium because of their proximity to the Atlantic Ocean, so keep that in mind as you evaluate each location. All of these campgrounds have similar offerings such as pools, beachfront access, golf cart rentals, arcades, kiddie areas, and gaming areas that may or may not meet your expectations. Regardless of which campground you choose, be sure to make reservations as far in advance as possible because campgrounds in this popular tourist attraction book up quickly, especially for holidays.