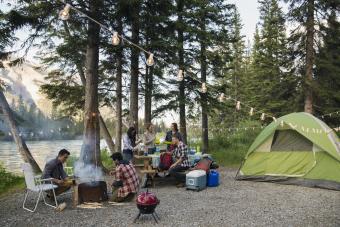 Looking for a campground for an upcoming trip? Here are related questions from Love To Know Camping's readers and responses from our resident expert.
Wild Camping in Clayton
Hello Mary,
I'm wanting to go camping in Clayton with a few friends to celebrate the end of my exams at school. We are all over 16 and feel we're responsible enough to look after the environment when we do camp by cleaning up after ourselves and preserving what's already there. We're wanting to camp on the delph of Clayton, but we don't know anything about the laws of wild camping and such in this area. I've spent time looking around the Internet trying to find out who owns it to ask permission, or any laws that are going to let us know if were okay to camp here. It's only for one night and we're going to clean up the next day. Do you have any advice please?
~~Thanks, Bethan
Expert Reply
Dear Bethan,
You are correct to verify that it's acceptable to camp in a certain area before you set out on a trip. I don't have firsthand knowledge of the laws of camping in the UK, so I can't give you specific advice. My suggestion to you is to contact the local government office and inquire about camping regulations in the area that interests you. You might also be able to get information about wild camping from people who operate campground facilities in the area. It's likely that they'll know where to direct you to get the answers you need. Try checking with the people who operate the Camping and Caravaning in the UK directory or Clayton Caravan Park to see if they might be able to help.
~~Mary
Camping Outside California State Parks
Hi Mary!
Do you know whether camping is allowed outside of the officially marked campsites in the California state parks? I know I can camp anywhere I want on National Forest Service land (except around certain designated campgrounds), but don't know the rules for CA State Parks. I can't afford an extended stay, so have to camp for free!
~~ Thanks, Carri
Expert Reply
Dear Carri,
Camping outside of designated camping areas is allowed in some California State Parks, but only if you have a Wilderness Permit. You can apply for a permit up to eight weeks in advance of your trip, and you must apply for your permit at least ten days before your trip. There are limits on the number of permits allowed at any given time, so you should definitely request yours as early as possible. For information about wilderness camping permits in California's State Parks, call (951) 659-2607. Here is a link to the permit application for Mount Jacinto State Wilderness camping. For information on other parks, see the CA State Parks website.
~~Mary
Campground Near Watkins Glen
Mary,
I need to find a campground or inexpensive hotel, motel, or inn near Watkins Glen, NY that allows pets (dogs) for this weekend (Friday night Oct.19 until Sunday Oct.21).
~~Tim
Expert Reply
Dear Tim,
The Watkins Glen State Park actually allows dogs on leashes, with proof of inoculation. The reservations number is (800) 456-2267.
The Watkins Glen KOA also allows dogs on leashes in the campground, provided they are not dangerous breeds. You can call (800) 562-7430 or register via the website.
These look like great options to me. After doing this research, I am interested in taking a trip to Watkins Glen now! If you want to check out other options before making a decision, visit the Watkins Glen Chamber of Commerce.
Have a great trip!
~~Mary