In today's increasingly wired world, overnight backpacking trips are a golden chance to unplug and experience a simpler type of life. But that doesn't mean you have to go it alone. Expert guides provide gear and guidance on the trail, simplifying your preparation and easing any concerns.
Six Overnight Backpacking Trip Examples
There are many opportunities to take guided overnight trips in the United States. Six great options to consider include:
Continental Divide in Colorado: Traverse the Continental Divide in a two-day, one-night trip with Colorado Wilderness Rides and Guides. Expect to hike 6 to 8 miles each day, and keep in mind that the high elevation – between 8,500 and 12,300 feet – poses an extra challenge. Taken together, the terrain, altitude and distance make this a moderate-to-challenging hike. If you have the requisite fitness level, the hike's short duration makes it the perfect learning opportunity for beginners. Cost: $595 per person as of August 2015.
Appalachian Trail in the Great Smoky Mountains: Spend four days and three nights on the Appalachian Trail with REI Adventures. This vigorous outing follows the trail through the Great Smoky Mountains National Park, and is a good challenge for fit beginners who are ready to learn from the guides. Be ready for some flexibility in the trip itinerary. You might hike up to 13 miles in a day, depending on availability for the primitive trail shelters you'll stay in along the way. Cost: $700/775 (REI member/non-member) in 2015, rising to $749/824 (member/non-member) in 2016.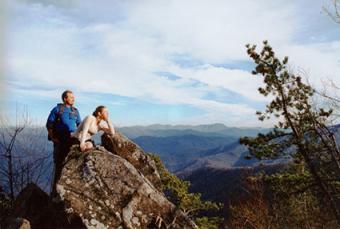 Grand Canyon (North and South Rims): Hike down into the Grand Canyon and back up the other side with O.A.R.S. This five-day, four-night trip uses lodge accommodations on the North Rim, plus a couple of nights at Phantom Ranch down in the canyon and a final night on the South Rim. The lodge accommodations make this a beginner-friendly trip, but keep in mind that you'll have two extra-long days to deal with: a 14-mile hike down into the canyon on the second day, followed by a strenuous 10-mile hike back up the other side on the second-to-last day. Cost: $1,949 to $2,099 as of August 2015.
Yosemite Grand Traverse: For a grand challenge, tackle the Yosemite Grand Traverse with the award-winning Southern Yosemite Mountain Guides. This 60-mile traverse takes in the Yosemite Valley's most iconic sights over seven days and six nights. This moderate-to-challenging trip is best for intermediate hikers, thanks to its distance and duration, although confident beginners would still have a lot of fun. Cost: $1,695 per person.
Alaska's Wrangell-St. Elias National Park: Experience some of Alaska's most breathtaking landscapes and magnificent wildlife with a seven-day, six-night trip along the Chitina River in Wrangell-St. Elias National Park with Expeditions Alaska. You don't have to be an experienced backpacker to take this trip, but you should have a lot of experience day hiking in challenging terrain. This moderate to strenuous trip varies between 2,000 to 5,000 feet in elevation, and starts with a ride in a small airplane from the tiny town of McCarthy, Alaska. Cost: $1,995 per person as of August 2015.
New Hampshire's Backcountry: Add a new dimension to your adventure by taking a guided winter backpacking trip with Outdoor Escapes in New Hampshire. You can choose a custom trip length for your private party ranging from two to ten days. Because these private trips are customized to your group's goals and ability level, they're suited for anybody from beginner to expert. Be aware that January through April trips are usually conducted on snowshoes. As of August 2015, these trips cost $430 to $2,150 depending on trip length, with discounts for additional people.
For more guided backpacking trip ideas, see EveryTrail.com. You can filter your search by location, activity and popular itineraries.
Picking the Right Trip
Some people thrive on negotiating harsh terrain in remote locations; others prefer long, easy rambles. Before you select a trip, take overall trip length and terrain difficulty into account. Gauging trip length isn't always about how many miles you walk; it's also about how long you'll be out on the trail.
Each guide company will be able to tell you:
Approximately how many miles you should expect to walk per day
Any major terrain challenges you might encounter
What sort of physical condition you should be in to tackle the trip
Also consider what you'll need to carry on any trip you are considering. Unless you have the privilege of pre-planned supply stops, you can expect to carry at least two pounds of food per person per day. That can really add up on long trips. So can the weight of water (which weighs about 8 pounds per gallon, or 2 pounds per liter) if you have to walk a long way between water supplies.
If you want to do a backpacking trip that's beyond your capability right now, work up to it by taking a beginner backpacking course and doing lots of day hiking with a heavy pack to build up your stamina.
Making Sure You're Ready for an Overnight Trip
There are several things you can (and should!) do before you leave on your backpacking trip to ensure that you're properly prepared:
Do a series of day hikes to break your boots in and make sure they fit properly, even on downhill slopes. Keep in mind that on a strenuous multi-day trip, your feet may swell a full size.
Make sure all your clothing layers fit properly.
Verify that any gear you're taking works. For example, if you're carrying your own water filter, camp stove or fire-starter, test it out before you go on your trip.
Practice hiking with a pack of similar size and weight to what you'll carry on the trip. This is the best way to make sure you're fit enough for the entire adventure!
Let someone you trust know where you're going, with which service, and when you'll be back.
Packing for Your Backpacking Trip
It's important to pack everything you need, but to avoid over-packing, as you'll have to carry everything that you take. Your guide service will provide a packing list of items you should bring on your trip. The guide service will often provide group camping supplies, such as water filters, camp stoves and cooking pots. Bigger-ticket items, like tents and sleeping bags, are often available to rent.
Get Ready to Hit the Trail
Sleeping on the ground, in the middle of the wilderness, might seem intimidating at first. But having a guide along makes the transition easy and, once you've tried it a time or two, you might just find yourself falling in love with the experience and ready to start backpacking on your own. Next time you're in a bookstore, grab a local guidebook and check out the wealth of backpacking trips in your area.