Hello Kitty is a fictional character founded by the Japan-based Sanrio Co., Ltd. back in 1974, entering the US market several years later. The adorable feline and global icon is a huge part of the kawaii (cute) aspect of Japanese culture. While she is a fictional character, there are many places where you can live out a real-life interaction with your favorite Sanrio characters.
Sanrio Puroland, Tokyo
Located in Tokyo's Tama New Town area, Sanrio Puroland opened in 1990 and is an indoor Sanrio character theme park. While most attractions and signage are in Japanese, the theme park still attracts a global audience due to Hello Kitty and friends' popularity. Sanrio Puroland does have an English version website, so you can learn more about the theme park before visiting.
Sanrio Puroland Attractions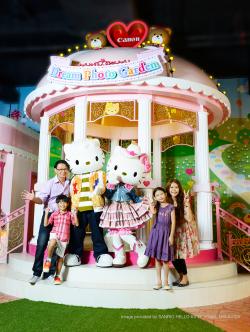 Some iconic attractions you don't want to miss at Sanrio Puroland include the Sanrio Character Boat Ride, which is a 10-minute boat tour that takes you through the world of Sanrio, and Lady Kitty House, where you will enter Hello Kitty's private quarters and take a photo with Hello Kitty at the end. A unique attraction here is Hello Kitty's Bell of Happiness, which is considered a "love power spot" where people come to ring the bell and hope they have good luck in love.
Parades and Shows
The parades and live shows are what many visitors to Sanrio Puroland love. Right now, there is the Miracle Gift Parade for the 25th anniversary. It features Hello Kitty, Daniel, and other Sanrio characters passing by on colorful floats. Hello Kitty in Wonderland is a live musical that brings the world of Hello Kitty and Alice in Wonderland together. Other shows include Miracle Illusion – Happiness, a light and fantasy illusion show, and Gudetama the Movie Show, a Japanese-only interactive program with "movie director" Gudetama.
Shopping and Eating
Not surprisingly, Sanrio Puroland offers as many shops as attractions, so fans can purchase souvenirs featuring their favorite characters. Aside from the Entrance Shop, Village Shop, and Entertainment Hall, specialty character stores include Lady Kitty House Shop, Gudetama Shop, Cinnamoroll Anniversary Shop, My Melody Shop, and Kiki & Lala.
Don't forget to stop by the duty-free counter to find out about tax exemptions. Depending on how much you spend, you may qualify for a partial tax refund at the airport when you are departing Japan.
For those who are curious about the dining options at Sanrio Puroland, the theming won't disappoint. Options include:
Sweet Parlor: A food stand that sells soft drinks, beer, ice cream, and other snacks.
Character Food Court: Dishes are modeled after Sanrio characters.
Sanrio Rainbow World Restaurant: Seven popular Sanrio characters are featured here in a rainbow-themed restaurant.
Cinnamoroll Dream Cafe: Cinnamoroll-themed desserts include pudding and cream puffs.
Restaurant Yakata: Indulge at this popular buffet restaurant.
Important Information about Puroland
Tama-Center is located in greater Tokyo, about 30 minutes by train from Shinjuku or 60 minutes from Tokyo Station. Be sure to check the calendar to verify opening hours as holidays in Japan differ greatly in some cases. The park may be closed on what appears to you to be random days. Most closure days fall on Wednesday and Thursday. Hours vary, but typically Sanrio Puroland is open from 10 a.m. to 5 p.m. on weekdays, 10 a.m. to 8 p.m. on Saturday, and 10 a.m. to 6 p.m. on Sunday.
An important note on any theme park in Japan-if you have tattoos, you may want to ensure they are completely covered. It's very discretionary, but you may be denied entrance if you have visible tattoos.
Ticket Prices
Prices for Sanrio Puroland are as follows:
Adults (18 and over): 3,300 yen for weekdays and 3,800 yen for holiday periods
Children (ages 3-17): 2,500 yen for weekdays and 2,700 yen for holiday periods
Holidays are defined as Saturday, Sunday, public holidays, and holidays recognized by Sanrio Puroland. The website offers discount tickets that give 100 yen off and one coupon is good for up to five people. There is also the Afternoon Passport discount coupon for admission after 2 p.m. on weekdays and after 3 p.m. on weekends and public holidays. These tickets are 2,000 yen for adults and 1,700 yen for children.
Puroland Reviews
Reviews on Yelp are generally positive, with some reviewers noting weekends are busy, with an average wait time of one hour per attraction. Several people noted that it's tricky to get there unless you are very familiar with the Tokyo subway system, so ask for help if you need it! Food is said to be good, and those who want to shop will find ample options to get everything and anything Sanrio.
Sanrio Harmonyland, Hiji
Another Sanrio theme park is Harmonyland, an outdoor theme park located in Kyushu's Oita Prefecture. There are 12 attractions, live shows, and the opportunity to meet popular characters like Hello Kitty, Cinnamon, and My Melody.
Harmonyland Attractions and Live Shows
Some attractions at Harmonyland include Hello Kitty's Castle where you can take a photo with Hello Kitty; the Sanrio Characters Boat Ride, which has been compared to Disney's It's a Small World attraction; Fairy Kitty Carousel, a two-story carousel; and WONDER PANORAMA, a large Ferris wheel that takes riders 60 meters up in the air with views of Beppu Bay.
Shows may vary seasonally, but two of the primary options are Parade Parallel and Kitty's Dream Factory, a "happy birthday" show.
Pricing and Important Information
Be sure to check the calendar for specific opening hours; days identified as Japanese holidays differ. Unlike most theme parks in the US, they aren't open 365 days a year, so don't be surprised to find them closed unexpectedly. Hours vary based on time of the year, but for winter, weekdays are 10 a.m. to 5 p.m., and 10 a.m. to 8 p.m. or 9 p.m. on weekends.
Tickets are 2,900 yen. If you are visiting from overseas, bring your passport and receive a 500 yen discount.
Reviews of Harmonyland
Reviews are mostly positive with people spending about a half day at Harmonyland. Some TripAdvisor reviewers have noted that the park seems a bit run down, with some attractions seeing some rust and feeling dated. One reviewer noted it's not worth going out of your way, and she wouldn't recommend it unless you have very young children or happen to be huge Hello Kitty fans.
Hello Kitty Park
Hello Kitty Park, located in Anji County, is China's first Sanrio-themed amusement park. It opened in 2015 and is part of the big plan for 60+ new theme parks in China.
Attractions, Live Shows and Parades
Highlights at Hello Kitty Park include Hello Kitty's home; Home to the Party, a tea cup style ride; Round the World, where guests tour famous landscapes and resorts in self-driving cars; a water-based ride called River Splash; and the popular Apple Tree Swinger, which has you sitting in apple chairs that spin you around the apple tree.
There are nearly as many live shows and parades as there are attractions at Hello Kitty Park. These include the King of Forest puppet show, the Hello Kitty Cruise parade, the Best Wishes Hello Kitty show at Angel Theatre, the Shell Theatre's Dream of Fantasy show with a special journey to the bottom of the sea, and a magic show called Magic Class, starring Bad Badtz-Maru.
Important Info and Prices
Like other theme parks, hours may vary so it's important to verify the schedule for specific days you plan to visit. Adult prices are 290 RMB for holidays and 230 RMB on weekdays. You can save 20 RMB by purchasing tickets online ahead of time. Children's tickets are 180 RMB for holidays and 140 RMB for weekdays, with a 5 RMB savings when you purchase online.
Hello Kitty Park Reviews
When Hello Kitty Park opened in 2015, it was met with a slew of bad reviews. The park wasn't fully operational, and visitors felt it was shoddy and the theming was very inconsistent. One blogger who went for the opening complained about the quality and prices of food, along with the difficulty getting there and the inability to purchase tickets online ahead of time.
Recent TripAdvisor reviews have been more complimentary, but some users still feel it doesn't stand up to the Japan theme parks. It would seem though, that unless you already happen to be in Anji, which is about three to four hours away from Shanghai, it may not be worth the long trek out there.
Hello Kitty Indoor Park, Shanghai
Hello Kitty fans in China will want to watch closely in 2018 as Shanghai is scheduled to open China's first indoor Hello Kitty theme park in October 2018. It's planned to take up three floors of the Shanghai Mart shopping mall on Nanjing Road, and will be approximately equivalent to five Olympic-size swimming pools in size.
Hello Kitty Town, Malaysia
Malaysia is home to Hello Kitty Town, a small theme park located not too far away from LEGOLAND Malaysia. Hello Kitty Town is part of the Puteri Harbour complex, close to the border of Singapore.
Attractions and Pricing
Like the other Hello Kitty theme parks, you'll find tea cup rides, a photo garden location, Hello Kitty's House, and more. Live shows are on the Purrfect Stage, or head to the Wishful Studio to make your own Hello Kitty themed souvenirs. Don't miss the Hello Kitty in OZ show, a fairytale adventure that takes Hello Kitty through the magical land of Oz.
The park is open seven days a week from 10 a.m. to 6 p.m. Tickets are RM85. You can combine your visit with the other theme park, Thomas Town, where you can also meet other characters, for RM125.
Hello Kitty Town Reviews
Google reviews are generally positive, with some users noting the park is small. They recommend doing the dual park ticket so you can spend the whole day, plus meet other characters like Barney. Also, it's indoors, which is a nice reprieve from the heat and humidity of Southeast Asia. Singapore-based blogger Little Day Out has a detailed write-up of a day at Hello Kitty Town for those who want an inside look at what there is to see and do.
Sanrio Characters at Other Theme Parks
While not a Sanrio theme park per se, there are other amusement parks where you might find Sanrio characters as well as places that have Sanrio-themed areas. Most recently, Sanrio has partnered with Universal Parks & Resorts for a new Hello Kitty retail store. The partnership kicked off with Universal Orlando and Universal Studios Hollywood, making this the first North American theme park debut with Hello Kitty retail. Aside from lots of cool merchandise, you can even meet Hello Kitty in person.
Hello Kitty's Global Reach
If you're a huge Hello Kitty fan, be sure to look at all the other places you can get your Hello Kitty fix. In Asia, you'll find cafes, stores, airlines, and even a hospital that pay homage to this global phenomenon.